Disneyland, Anaheim California
Our 2007 adventure started off with a departure from Spokane airport. Christopher has plenty of experience with jetliners so he immediately moved into the captain's seat and reviewed the flight plan with the copilot.
Having approved the flight plan to Los Angeles, Christopher took the yoke into his hands and prepared to taxi the Boeing 737 to the runway.
However, the pilot then showed up and explained that if Christopher actually flew the plane, he (the pilot) would not get paid. Christopher felt sorry for the pilot and released command to him.
The flight to Los Angeles was uneventful, as was the drive in the rental car toward Anaheim. Uneventful, that is, until Christopher spied a pair of police cars in front of a grocery store. Closer examination revealed two men in their 20's being arrested, one in the back of a police car and the other being questioned while wearing handcuffs. Welcome to California!
We soon arrived at our hotel across the street from Disneyland and lost no time getting into the park. We had a fun Saturday afternoon and evening and went back to the hotel to rest up for our first full day on Sunday.
On Sunday we were due to meet Uncle Larry and Aunt Kathy at Club 33. Christopher has been going to the Club since he was under a year old and knows exactly where the Club is located and how to get in. The staff of the Club has also known Christopher for virtually his entire life and is always excited to see him.
There's someone else who is always thrilled to see Christopher again, too....
Mickey always makes a special trip to the Club - in his tuxedo, no less! - when Christopher has Sunday brunch there. The two are very close friends and never miss a chance to give each other a big squeeze.
Mickey usually brings along a friend when he visits Christopher in the Club. Today he brought his dog Pluto, who like most dogs tries hard to get in on whatever action is happening!
After a great lunch with Larry and Kathy, it was time to head out to the attractions. Christopher had made it his personal goal to "wear out Larry" on the rides.
Most rides at Disneyland and Disney's California Adventure (DCA) have a height requirement. As Christopher has gotten older and taller, he has steadily been able to get onto more and more rides. This trip, he was finally tall enough to go on DCA's Grizzly Rapids, a ride that simulates whitewater rafting. Christopher has been around whitewater kayaking and rafting his whole life so the basic concept isn't new to him, but he was still very excited to see how DCA did things.
Mary and Kathy decided not to risk getting wet, so it was up to "the boys" to set the example. We were soon on our way and the girls took photos as we approached the main lift. Here the raft has rotated so Christopher's back is toward the camera, and you can see Larry looking back between his and Christopher's seats.
There is no vantage point for the girls to have taken pictures during the ride, but once the boys were back near the bottom Mary managed to capture this shot right after a simulated geyser had nailed everyone but Richard. Check out the expression on Christopher's face!
Another attraction that Christopher was finally tall enough to enjoy was the "Smoke Jumper Training" within DCA. This is a cable-swing-like ride and Christopher was very excited to finally try it.
Later, while we were walking around DCA, Mary spotted something and pointed it out to Christopher: Two of the main characters from the movie "Cars" were driving right down the sidewalk! Mater (the brown one on the right) is especially popular with Christopher's two neighbor friends, Camden and Carson, so he was insistent that we take a picture for his buddies.
On Tuesday we met Mary's Grandfather Bob at Club 33. We had a great visit and he even joined us on three of our favorite attractions: Pirates of the Caribbean, Jungle Cruise, and the Enchanted Tiki Room. Pirates has been updated to include the "Captain Jack Sparrow" character from the movies, plus a few other updates and a general cleanup and refresh that has improved it quite a bit. The Jungle Cruise and the Tiki Room were great as always, too.
One day, Christopher was selected to be a Jedi Knight in Training. He's never seen any of the Star Wars movies and doesn't know anything about the storyline, but he has played "light sabers" with his friends Camden and Carson so he knows the basic concept and is very adept at deploying and using the weapon. He was given a cloak to wear:
...and then joined the other students to receive instruction on how to properly use a light saber.
Suddenly, Christopher was chosen to defend the students from a threat. With a little prompting, he bravely stepped forward to do his duty...
...and it all seemed like fun and games until everyone saw just WHOM he was supposed to fight:
DARTH MAUL!!!
At this point, it was up to Christopher to protect the other students. His trainer directed his advance...
...and as Darth Maul approached, Christopher raised his light saber and prepared for battle. If looks could kill, Christopher's expression alone would have knocked Darth Maul right off his feet!
As the battle raged on, Christopher's trainer showed him some light saber tricks...
...and Christopher threw in a few effective tricks and blocks of his own:
Finally, Darth Maul was defeated and, along with Darth Vader, he retreated leaving Christopher and the rest of the students victorious. Christopher was given a graduation certificate which he proudly held aloft after turning in his cloak and light saber. In this photo you can also see the birthday button he was wearing; they gave it to him at City Hall when they learned that his only birthday request was a trip to Disneyland.
The adventure continued on a variety of rides, including the teacups (which Mary will not ride):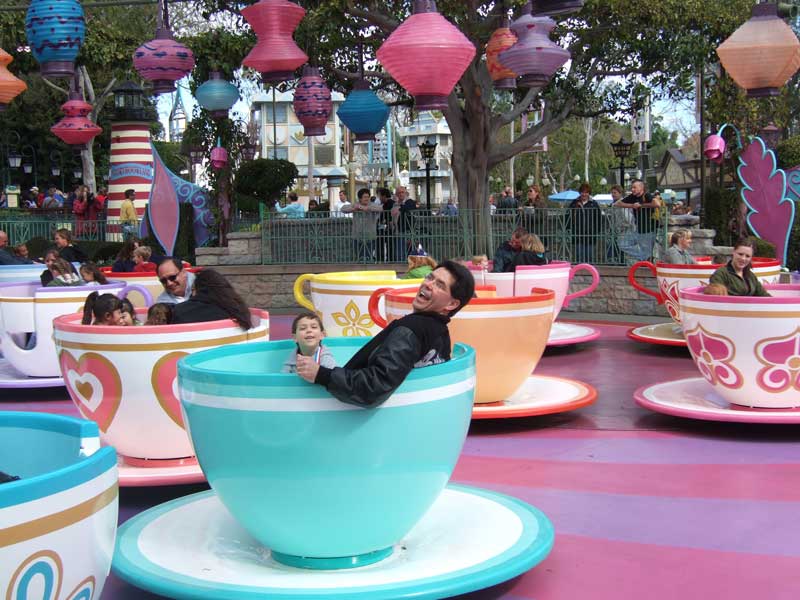 ...the carousel:
...and Dumbo: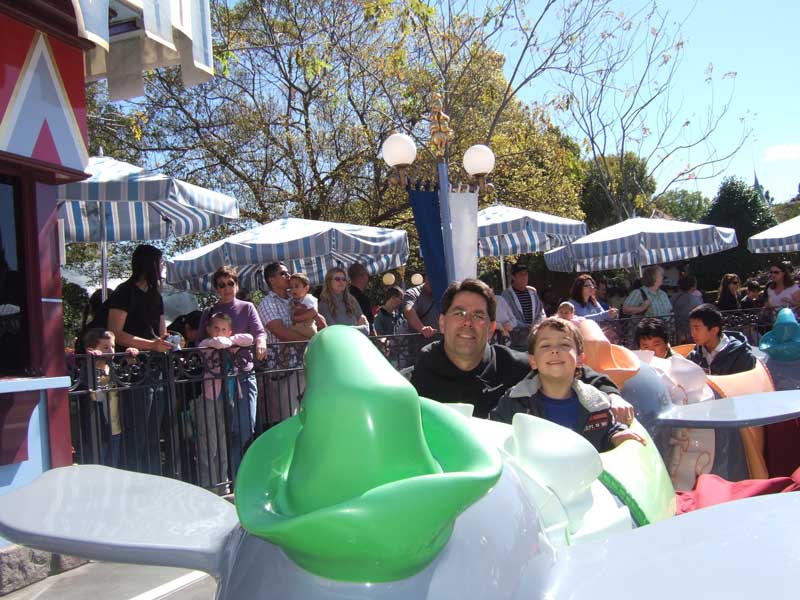 Christopher also discovered yet another fire truck in Disneyland (beyond the horse-drawn one in the Fire Station and the 5/8ths scale one that drives up and down Main Street). This one is in Toontown and has that distinct "cartoon" look to it. This is definitely not the last time we will visit the fire truck theme later in this trip report.
Much to his delight, Christopher DID manage to get Mary into a teacup - the static one that is set up exclusively for photos! Christopher conned Mom into this photo by pointing out that it was probably the only teacup she would ever sit in with him.
However, there is one attraction that definitely captured Mary's interest. She likes almost everything at Disneyland, but lately she's been shooting 'em up and taking 'em down at the Buzz Lightyear ride. Mary has always been downright scary at laser tag games (hint: NEVER challenge her to a session at LaserQuest in Spokane), and the Buzz Lightyear ride takes full advantage of her skills. In this particular session, she rode alone and thus held a blaster in EACH hand, firing away at two targets at once!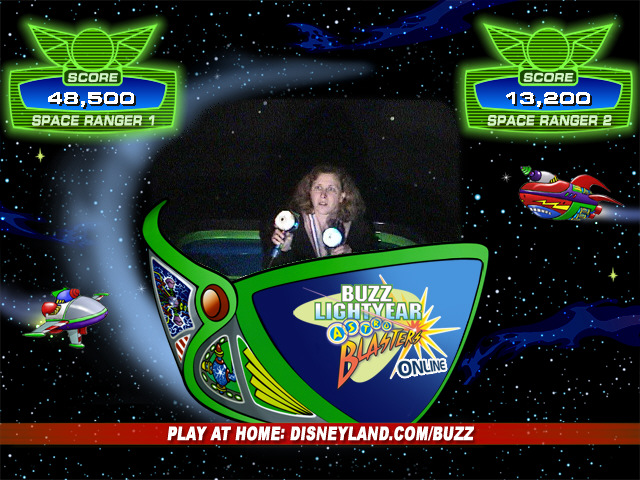 This visit to Disneyland had countless other highlights, but it's time to move on to the next phase of our trip.
Auckland, North Island, New Zealand
We started the overseas part of our trip by flying from Los Angeles to Auckland, New Zealand. Auckland was something of a disappointment - it is basically like every other large city. It definitely has the most confusing road system Richard has ever encountered. It literally took he and Bonnie (his mother-in-law) two hours to get to and from a grocery store that was just five minutes away.
The one thing that Auckland has going for it is the Sky Tower, a ~1000 foot high structure that is the tallest in the entire southern hemisphere. You can see it dominating the skyline in this photo.
The Sky Tower was completed in the late 90's in under three years for the surprisingly low cost of just $85M. In addition to being an attraction in its own right and an antenna platform for virtually every broadcaster in New Zealand, it also affords the most spectacular views of the greater Auckland area.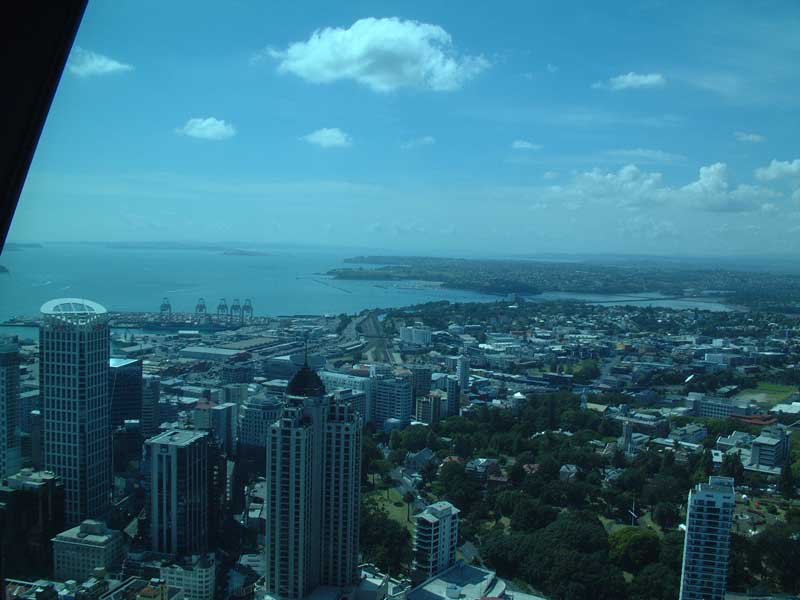 The best part of the Sky Tower, though, must be described with pictures. First, here is a shot through a portion of the floor that is made of glass. Those are Richard's feet, and between them way down below on the ground there is a red and white target.
Whatever could that target be for? Well, this IS New Zealand, after all - the center of the universe for adrenaline junkies and the birthplace of bungy jumping!
No, this is not a trick photograph. For a very substantial amount of money you, too, can travel to the top of the Sky Tower and be harnessed into a cable system.
This cable system hangs out over the edge of the Tower, and when you are cabled into it you jump off and dangle in free space for a second or two.
Then, they cut you loose...
...and you free fall several hundred feet until you automatically decelerate within yards of the ground. Look very carefully in the above photo and you will see a little man-shaped object falling next to the tower. The descent takes far less time than you'd think!
The second best thing in Auckland - at least according to Christopher - is that they have fire stations just like we do in the States! Can you believe it?
Christopher wasted no time in climbing aboard their largest fire truck and immediately began turning on lights and other accessories while the firemen helplessly looked on.
It wasn't long before Christopher had talked the fireman out of his helmet, and out of the driver's seat, leaving "Chief Christopher" firmly in charge. Note the right-hand driver's seat!
Christopher and Daddy investigated the similarities and differences of the truck's water control systems...
...and Christopher pointed out that one thing, in particular, was quite different from back in the States.
We also found out that, while this truck was custom built for the New Zealand fire department, it was actually built in Illinois! Apparently the world at large knows that the best equipment comes from the good old USA.
We finally left the fire station having made some great new friends and learning a lot about how things are done the same, and differently, in New Zealand's fire departments.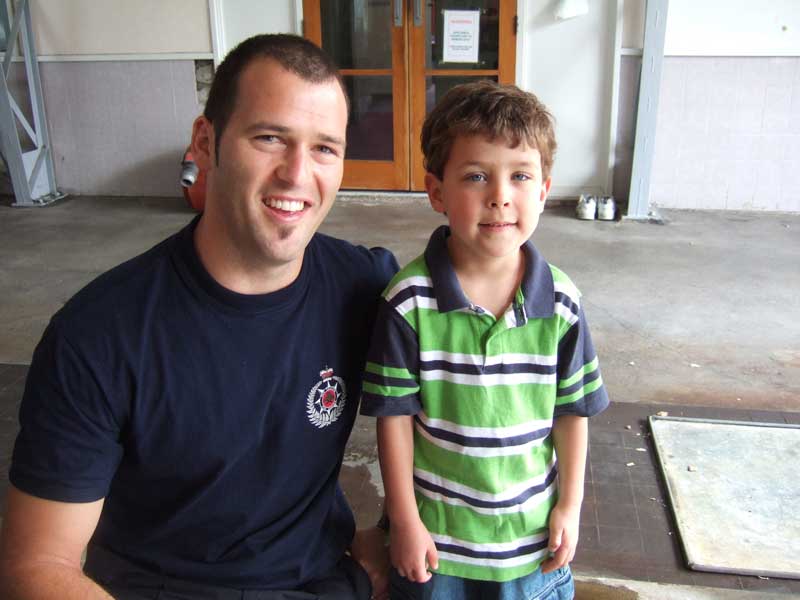 Auckland was also our first encounter with some of New Zealand's everyday differences. For example, we knew their outlets were different and that their AC power was 230VAC @ 50Hz instead of the USA standard of 115VAC @ 60Hz. However, the differences didn't stop there.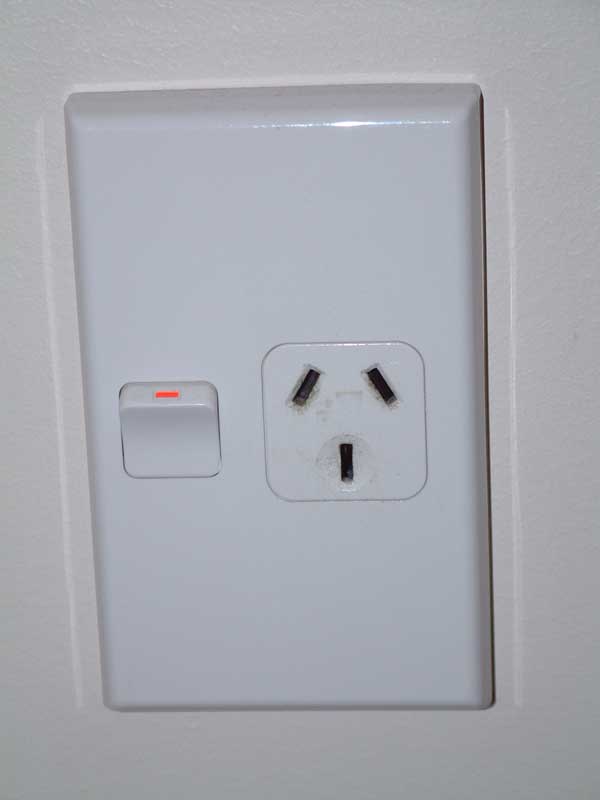 Every outlet in New Zealand has an integrated power switch. There's also a separate, on-the-wall power switch for every electrical appliance. If you have an electric range, there is a power switch on the wall nearby even though the range itself has its own standard switch. If you have a heater in the bathroom or a refrigerator in the kitchen, they too will have separate standalone switches in addition to whatever power switch they themselves have. When Richard asked about this seeming needless redundancy, the only answer he received was "It's required". No one seemed to know the reason.
Next, check this out: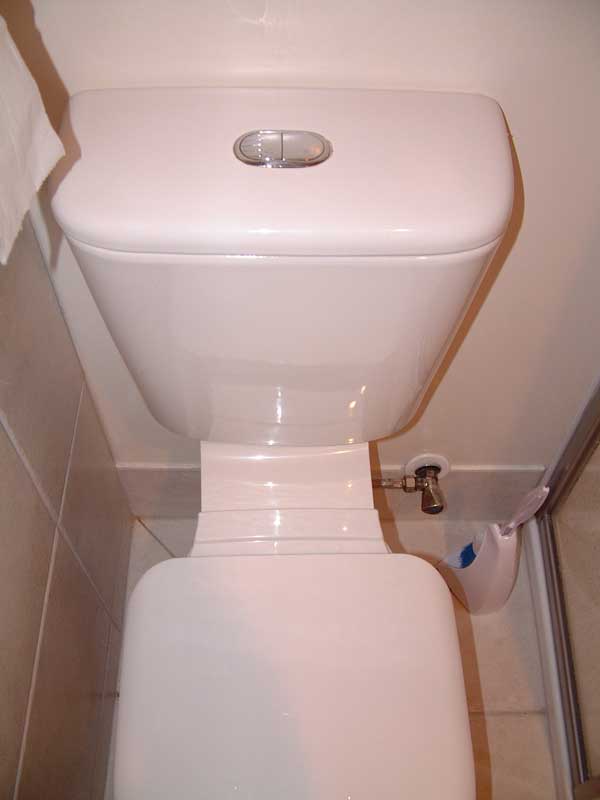 Here is a standard New Zealand toilet. Note that there are TWO flushing buttons on the top. Why? Because sometimes you only need a little water, and sometimes, well, you need a mega-flush. The user presses whichever button he feels is appropriate for the present task. Also, New Zealand toilet bowls are MUCH deeper and wider than their American counterparts. We have no idea why.
Another thing we noticed was that New Zealand seems quite practical in its approach to "environmentalism". Eco-sensitivity is everywhere, all the time, and it's something about which the Kiwis (as they call themselves) are quite proud. Yet even the "lesser flush" button on their toilets dispenses FAR more water than America's ridiculous "low-flush" toilets, to say nothing of the "super flush" button. And despite the American media's (and California legislature's) current love affair with Compact Fluorescent Lightbulbs (CFL's), with only two or three exceptions every single light bulb we saw in every New Zealand town and city we visited was a nice, familiar, easy-on-the-eyes incandescent. While there was plenty of in-your-face environmentalism everywhere in New Zealand, they seem much more realistic and sensible about it that some folks back in the States.
Rotorua, North Island, New Zealand
After leaving Auckland, we drove south toward Rotorua. This is an area rich in Maori culture and very significant in their history. It has a huge, beautiful lake and a Kiwi (their national bird) breeding research center. It is also the center of the "extreme sports" for which New Zealand is famous.
One of the things we knew about and wanted to do while in the Rotorua area was "Zorbing". A Zorb is a large vinyl sphere capable of holding 1-3 people. You get into the sphere, either being strapped to its inner surface or free-floating along with several gallons of water in which you slosh, and then those crazy Kiwis (the people, this time) shove you over the edge of a hill and let you roll, bounce, and tumble to the bottom. The sphere is translucent so once inside you really have no idea where you are or any sense of direction.
A few kilometers outside of Rotorua proper, we came upon this sight:
That mechanism in the background is the "Zorb lift". Once the Zorbonauts (that's what we're called!) are back out of the sphere, the employees roll the sphere onto the bottom of the lift and it carries the Zorb back up the hill in preparation for the next set of victims, er, explorers.
We asked Christopher if he wanted to go Zorbing right then, or wait until the next day, and - surprise - he wanted to go right then. Since he'd been very patient riding in the car for several hours on the way down from Auckland, we figured this was a good "energy release" so we pulled right into the driveway.
This was a "wet Zorb" day - they were only doing water-filled spheres. The Zorb folks provide sacrificial clothing so we changed out of our street clothes and then waited for the shuttle truck to come back down the hill. We could not convince Mary to go, so Richard and Christopher represented the United States. We shared the shuttle with folks from Holland, the UK, etc. and later met up with visitors from Germany, too.
Christopher was very excited to be going Zorbing. We had been talking about it for several weeks and he knew all the details....
...all of them, that is, except the shuttle ride. When the barely teenaged drivers parked the truck and then started having a water fight using full-force garden hoses INSIDE THE TRUCK, we knew the trip up that muddy, rutted road was going to be exciting. We made sure we wore seatbelts.
The trip up the hill was at least as exciting as Zorbing itself. Indeed, we felt far safer in the nice, cushy Zorb ball than in the back of that van going up that hill. I think the Kiwis could create another extreme sport just by selling rides up the hill in that van!
Thankfully, we made it up the hill safely. Richard and Christopher were the first to go. They dumped a huge amount of (thankfully) warm water through a tunnel in the side of the ball, then told us to take a running start and jump headfirst through the tunnel. Christopher wasn't tall enough to do that, so Richard basically threw him through the tunnel and then followed him as recommended.
Once inside, the crew zipped a waterproof panel over the tunnel opening and then thumped on the side of the ball. This was our sign to start "walking" the ball forward to help launch it down the hill. We kept our balance at first, and then....
This is a picture of Richard and Christopher's Zorb coming down the hill. You can just make out Richard's head (dark hair) and shoulders (orange shirt). Once we got things rolling it was impossible to remain standing, and we ended up tumbling down into the pool of water within the sphere. From there, it was like riding the longest Slip-n-Slide in the world with no sense of orientation whatsoever.
Richard thought it was fun, but the acid test was how Christopher had fared. His response? "Let's go again!" So we headed into the office to sign up again. Along the way we met up with Mary and her folks, and pressured Mary enough that she finally agreed to make it a Family Zorb!
First we got Mary into her Zorb outfit:
Then we took a "before" photo: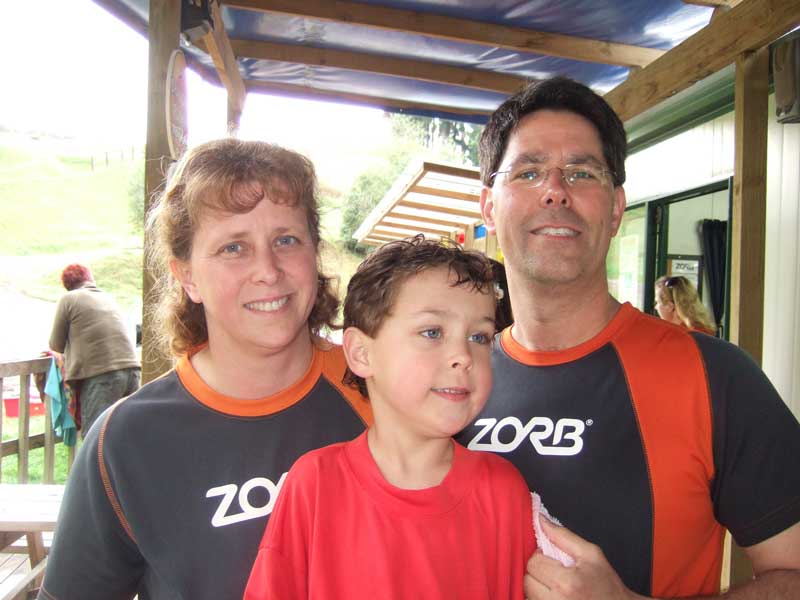 Then we braved the shuttle and the Hartmans were again chosen to go first.
This ride was different. For one thing, the extra weight of a second adult helped the Zorb roll quite a bit faster. Richard also knew more about balance this time around and spent more time accelerating the ball at the top of the hill. But when he finally lost his balance, Richard fell on Mary and popped her in the nose, which put a bit of a damper on her first Zorb experience.
Fortunately, no damage was done and we absolutely rocketed to the bottom of the hill. Here's what we looked like when we emerged from the sphere:
You'll note that Richard is smiling, Christopher is trying to get the water out of his ears, and Mary is relating the story of her "nose job" to her mother. In other words, a good time was had by all!
By this time it had been a long day of driving and Zorbing so we decided to head into Rotorua proper, find our hotel, and have dinner. We booked our hotel sight unseen (of course) and didn't know what to expect. It turned out to be a wonderful little place with about 30 units that looked brand new. The owners were extraordinarily friendly and helpful and recommended several dinner options.
It should be mentioned that, as we approached the hotel, we began to notice "the smell". Guidebooks had mentioned that the Rotorua area, with its huge number of active geysers and vent holes, has a distinct sulphur smell. We didn't notice it until we got far enough northeast to reach our hotel. This also put us within proximity of the larger geyser fields and the smell was, initially, pretty strong. But our noses soon adjusted and we didn't really pay much more attention to it unless we were out of town for a few hours and then came back.
Once we had dinner, we went back to the hotel to settle in for the night. It turned out that every unit in the place had a huge, beautiful spa, and naturally Christopher wanted nothing to do with a shower when a tub like that was available.
He spent a long time playing with the bubbles, the jets, the variable air injection, etc.
The next morning, we decided to visit one of the geyser fields. The one we chose was surrounded by a Maori historical center so we gained an education while viewing the geysers and vent holes. The facilities were being upgraded, and as you may know Maoris are famous for their elaborate "totem pole" like carvings. Native Maoris were working on the carvings for the improvements and we got to watch them do their work with very traditional hand tools.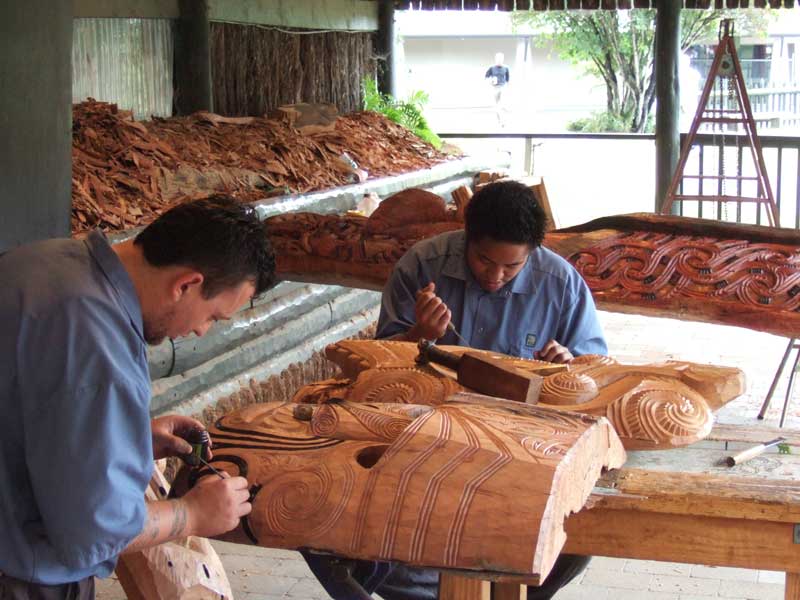 At this point the camera Mary's parents had brought along started having problems. We took this photo with the Hartman's camera and told the Maoris we were going to caption it "Natives mystified by modern technology". [grin]
In reality, though, the carvers identified the switch that was having problems. We later determined the root of the issue: some plastic had broken away on the camera, preventing a switch from being properly depressed when the lens cover was opened. We found some two-part epoxy and shaped it to replace the missing plastic and the camera was functional again.
Speaking of Maori carvings, this tradition extended far beyond a few "totem poles". They carved and hand-crafted entire buildings. One such building was on-site at this location and we ventured in to investigate. Inside, we found a carving of a human figure adopting the typical Maori "expression of defiance" (tongue out, eyes wide, etc.) and holding his hands on his stomach. It didn't take long for our crowd to "go native":
The geysers and steam vents in this particular site were extremely numerous. The walkways led you right past them, and we saw several tourists stupidly put their hands into the steam vents! This was a warm, humid day and yet the vents were emitting visible steam. C'mon, folks, do the math... the air temperature has to be over 200F.
Here's a photo showing our group near one of the larger geyser areas:
Christopher and Richard walked to the top of a hill in the midst of this geyser field. This shot gives you a sense of just how plentiful the geysers really are in this area. Every steam plume you see here is at least one, and often several vents.
At one point Richard and Christopher went off-track near a vent field. Very soon Richard could feel the rock under his feet vibrating as Christopher stepped along. The rock was so thin there that Christopher's 40-something pounds was enough to make noticeable vibrations! We stuck rather closely to the indicated tracks after that; nobody was interested in breaking through the rocks and falling into a 200F+ steam vent.
There was a nice quotation on one of the signs in this facility which I hope to remember: "Show me and I'll see, Tell me and I'll hear, Involve me and I'll understand."
Since the day had already started out as a culture lesson, we decided to stick with the theme and visit a Maori "cultural experience". There are a few of these around Rotorua. What they do is give you an introduction to early Maori history (how they originally came to New Zealand, etc.) and then you get into buses and they drive you out of town to a place where they have set up a model Maori village. Each bus is considered a visiting "tribe" and you are initially greeted by Maori warriors in traditional clothing and face makeup/tattoos. After answering their "challenge" you are welcomed into the village, they teach you quite a bit more about Maori history, and then serve you a traditional Maori feast.
Richard initially expected this to be just another tourist trap, but quite frankly it turned out to be one of the highlights of our trip. Through some trickery by Mary, Richard was selected to be our tribe's "chief" and was able to participate in certain rituals. Richard honestly got a lump in his throat several times during the ceremonies; it was obvious that, far from being just "actors", these native Maoris took their heritage very seriously and were genuinely thankful that people were willing to learn about their ancestors.
Here is a photo of one of the traditional dances they performed. I do not know if the tattoos are real or temporary, but such tattooing was a huge part of the Maori culture back when they were the only inhabitants of these islands.
A Maori feast is interesting in itself. They dig a pit in the ground, then build a big fire next to it and pile rocks on the fire. When the rocks are super hot they are tumbled into the hole. Food of all types is wrapped and then placed directly on top of the rocks, after which the entire assembly is covered over with dirt. Things are left to cook for several hours and then the dirt is removed and the food is served. The resulting meat is fall-off-the-bone tender, the vegetables delicious, and the whole experience enjoyable for everyone.
Here a Maori young woman teaches our group about how to cook a traditional Maori feast. Richard and Christopher are standing next to her, still nibbling on some desserts.
Our Maori cultural experience kept us out until late, and after such a big day we all agreed a relaxed, unscheduled following day would be a good idea. So we had a late breakfast and then fiddled around Rotorua a bit just to see what we could find.
Lake Rotorua itself is quite large. The name means "second lake" and comes from the fact that it was the second lake discovered by one of the original Maori chiefs to arrive in this area. This photo shows the island in the middle of the lake:
That island is (by Richard's estimate) nearly a mile offshore. It is so far out there that it is used as a Kiwi bird reintroduction site. Kiwis are under threat by non-indigeneous predators, so the captive breeding programs like to release their new Kiwis into areas that are isolated enough to be free from predators and the risk of future predator migration. That the island is considered such should tell you something about how large Lake Rotorua really is.
Right next to the Lake Rotorua shoreline we found the following, proving that some things are universal to the human experience!
Christopher used this playground several times to burn off calories when our activities weren't sufficiently energetic. One day he made friends with a native Maori girl about 12 years old. Interestingly, she later engaged Mary in a suprisingly detailed discussion of American politics! Apparently politics is a favorite subject of New Zealanders.
Christopher, his new friend, and the rest of our group stood on a playground bridge for this photo: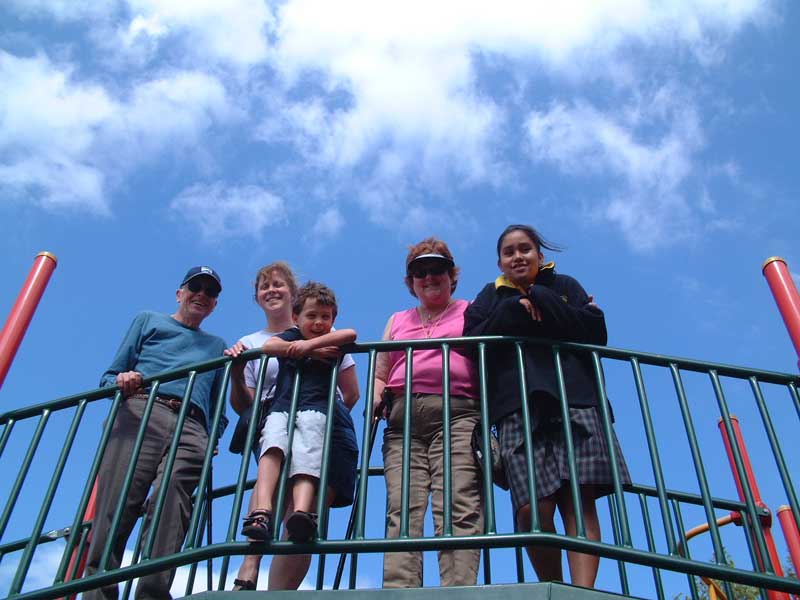 The next day, we headed to the Tauranga area to set out on a sailboat that finds dolphins so you can snorkle with them. The weather the previous day was much, much better than this day and we should have gone out 24 hours earlier, but as mentioned above we thought a rest day in between was a good idea. The weather didn't agree and the day turned out pretty rough, including an utter lack of dolphins anywhere.
However, that didn't deter some of us from having as much fun as we could muster given the circumstances. Here, Christopher and Richard are lying on the ship's bow while we work our way out into the open ocean.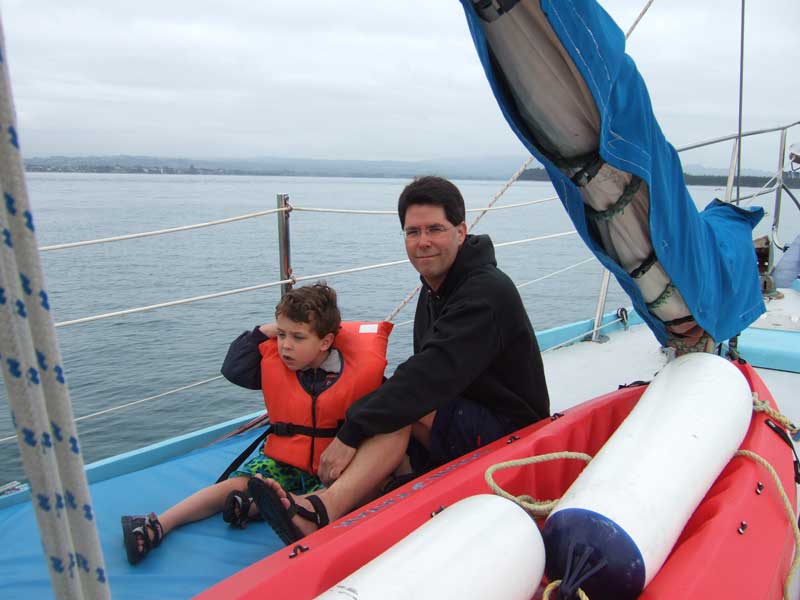 Later on, all but Mary's father donned our snorkling gear and plunged into the rather cold water for some lazy swimming.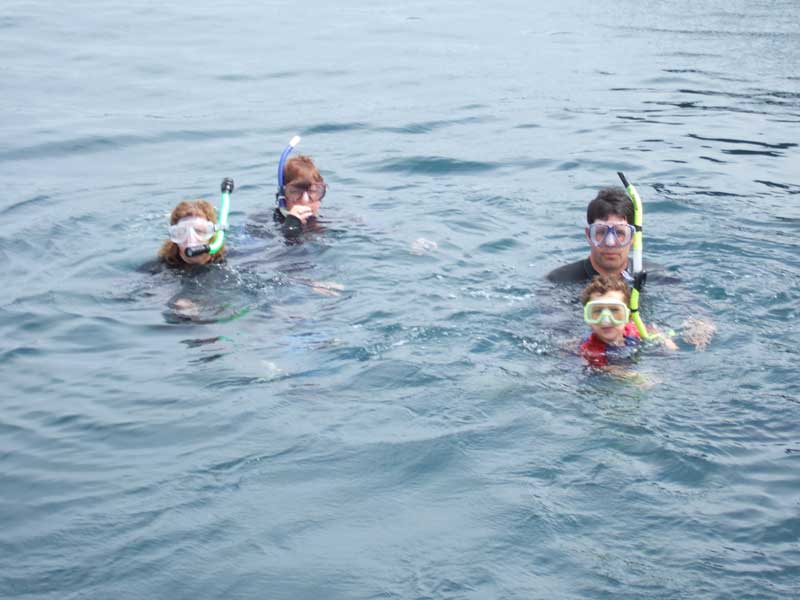 We brought Christopher's wetsuit with us from the States, but it's a bit large for him and doesn't properly insulate him from the cold water. He's in between sizes (having outgrown his previous one) so he's either really cramped and uncomfortable or hypothermic. He hung on as long as possible but eventually said he needed to head back to the sailboat, so he and Richard swam back while Mary and Bonnie fiddled around a while longer.
Eventually everyone was back on board and Christopher got warmed back up. It wasn't long before he talked his way into the driver's seat, just as he had on the Southwest airplane that started this whole adventure.
That day wasn't one of the best. But we soon found another event that Christopher had been planning for weeks: The Swoop!
The Swoop is unique to Rotorua. It's basically a combination bungy jump and rope swing. Christopher knows all about rope swings thanks to the really great one we have out at Twin Lakes. The Swoop combines that action with an initial freefall drop while the slack in the cables is taken up. It looks pretty intense, but we decided to try it anyway.
First they put you into "body bags". The irony of that situation did not escape us.
Next they strap all the Swoopers (up to three at a time) together and hang you from the cables. The two cables run up to the top of a pair of towers, one on each side, so that as you're swinging you don't spin at the end of the cable. The towers are about 100 feet high.
Then they roll the stairs away and start lifting you up. You go up until you're about even with the tops of the towers, roughly 100 feet (estimate). This is done by means of a crane-like assembly that they also use for bungy jumping. (That's the purpose of the enclosed platform in the photo.)
Finally, you reach the top and then you're ready to go. All that remains is for one of the Swoopers (Richard, in this case) to pull the ripcord that releases things. You can see the ripcord handle just above Richard's right hand in this photo. You can also see just the slightest hint of concern on Christopher's face as he looks down about 100 feet toward the ground. He knows what's coming....
And here they go! If you look carefully you can see the thin ripcord snaking away from Richard's right hand. The ripcord has been pulled and our Swoopers are on their way!
Richard had told Christopher to interlock arms, and about now Christopher was definitely hanging on tight.
After the release, you go through an initial freefall while still upright. Once the cable slack has been taken up, though, you begin inverting...
...until you're finally completely upside down, and thus flying headfirst.
The airspeed is getting pretty fast by this time, as you can see by the hairdos!
Eventually you bottom out, swooping just a few feet above the ground. You're doing 65+ miles per hour as you fly past the ground that is almost within reach of your fingertips.
They let you oscillate back and forth as you lose momentum. On the way back down from the initial swooping pass, the expressions on the faces of our intrepid explorers tells the story - they're ready for a second Swoop!
For the second Swoop, Mary moved into a different position with her camera. Christopher and Richard were able to see her very well as they flew past and gave her a wave and a smile.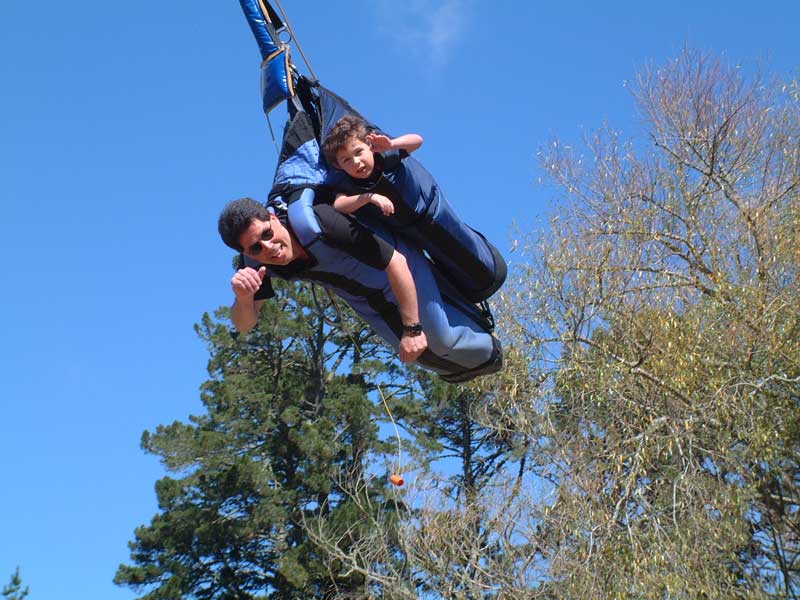 Thames, North Island, New Zealand
We left Rotorua after spending four days and five nights there. That was just barely enough time to get a "feel" for the area but there remains much to be explored - perhaps on a future trip.
Our current itinerary showed our next planned stop to be Thames (pronounced "tims", different than the river in London). Thames is a town on the Coromandel Peninsula, a spectacular section in the northeast of the North Island. We were to spend three nights in Thames, using it as a base for excursions north into the peninsula itself and west to a friend's home where a pair of Curly Coated Retrievers, like our Coral, reside.
We drove to Thames through Tauranga, familiar territory after our ill-fated sailboat voyage. Beyond Tauranga we kept driving through new parts of the island, stopping occasionally to stretch our legs or investigate interesting things. Just outside of Thames itself, we drove past a construction materials company whose name and slogan struck us as significant given that our very good friend John Carter is so much a contractor and remodeler:
We finally arrived in Thames and followed the instructions to the B&B where we were scheduled to stay. This turned out to be a very nice home, but the layout for the Hartmans and the Hunters involved multiple bedrooms separated by distance and staircases. That was not something that Mary's parents (the Hunters) could really accommodate, so we begged their forgiveness and found lodging in a hotel nearer Thames itself. This was a solution for the first and third nights, but the second night they were booked and could not accommodate us.
After some research, and discussion with our Curly-owning friend, Mary found a B&B in Coromandel Town (farther up in the peninsula) that could take us for the night in question. We thus rearranged our schedule to stay first in Thames, then in Coromandel Town, and then back again in Thames. Our friend Sue suggested we use this change of schedule to drive up the west side of the peninsula the first day, then return down the east side of the peninsula the second, essentially circumnavigating the peninsula in the process. Sue said that the two sides were quite different and both were important to experience.
While driving to dinner, Mary and Christopher found - you guessed it - another New Zealand fire station. (While it may seem like it to you, gentle reader, we promise that we didn't actually stop at every fire station we found on the trip!)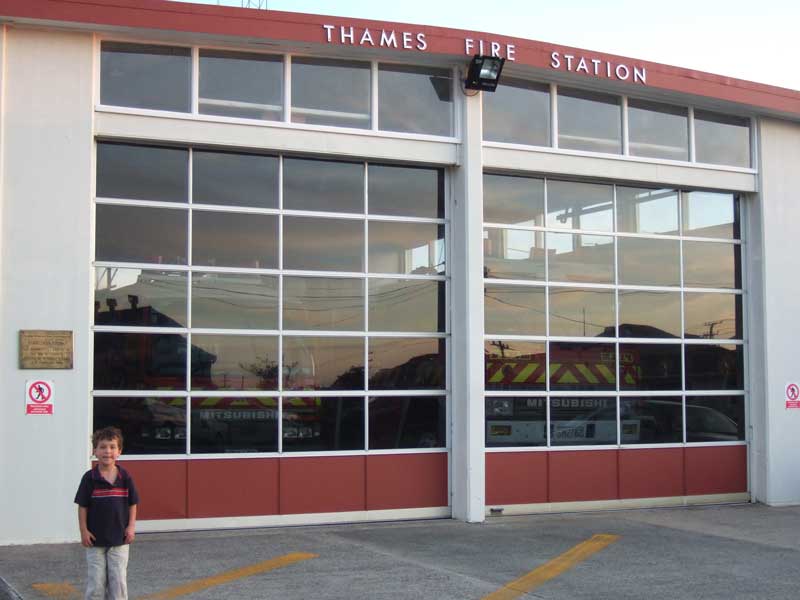 We spent a nice evening in Thames, including a swim for Christopher in the hotel's pool. While watching Christopher in the pool, Richard happened to look at the night sky... and noticed that the consellation Orion was upside down! Obviously this was because we were in the southern hemisphere, and checking out the night sky "down under" was something that Richard had been looking forward to doing. For some reason this was the first time he'd taken the time to do it.
The lights of Thames were too bright to permit fainter objects to be seen, but that night Richard saw the famous Southern Cross for the first time ever. We made a mental note to check the night sky again once up in Coromandel Town itself, which is even more rural and has less light pollution.
We arose the next morning and after a quick breakfast found a playground for Christopher. Letting him play on playground equipment for 30-60 minutes really makes lengthy car trips much more enjoyable for everyone... all that five year old energy is better expended outside the car than inside!
New Zealand playgrounds are much better than those in the States. While we in America are removing merry-go-rounds, the Kiwis have seriously fun stuff like cable swings, FAST merry-go-rounds of various sizes, really tall climbing walls, climbing ropes, and other things that would warm the hearts of liability attorneys throughout America.
While at the playground, we noticed people setting up for a big annual festival they were having in Thames that day. Apparently this is a huge event that attracts folks from all over the North Island, which explains why accommodations were so difficult to obtain. Right next to the playground were some people preparing miniature ponies for kids to ride and to pull a little wagon. We started talking to them and it wasn't long before Christopher was helping to "test" their arrangements.
In an amazing coincidence, the blonde woman in the above photo is actually from Vancouver WA. She married a Kiwi a while back and now lives in New Zealand.
After riding the pony for a while, Christopher got to give it a couple of carrots. Richard made sure that little hands were held flat so that little fingers didn't become unintentional pony snacks.
Some of you probably know that Richard has a bad history with horses. Horses do NOT like Richard. He's been bucked off, kicked, stepped upon, bitten, and basically abused by horses throughout his life. Ironically, donkeys LOVE Richard and the feeling is mutual - but horses are another matter entirely. Richard is certain that the horses of the world get together and brag about who was able to inflict the latest injury, with extra points for severity.
So it was that while helping Christopher get comfortable with the pony, it managed to step right onto Richard's right big toe. Those little ponies are heavier than they appear, and he has a bruise under his toenail to this day. The fact that out of all the numerous human feet around the pony he still singled out Richard simply confirms the existence of the worldwide equine conspiracy. The pony's owners even stated that they saw him do it on purpose!
Coromandel Peninsula, North Island, New Zealand
Soon we were on the road up the western coast of the Coromandel Peninsula. It was only an hour or so to Coromandel Town, but within about 15 minutes we had already stopped at one of the countless little beaches along the way. Paul and Bonnie enjoy "shelling" (looking for interesting seashells) and mile after mile of seashells finally got the best of them.
We reached Coromandel Town and immediately drove to our one and only appointment: The Driving Creek Railway. The history behind this railway is amazing. Briefly, a science teacher moved to the area decades ago, quit teaching after only a year or two, purchased some land that had lots of clay deposits, and started a new career as a ceramics artist. To mine the clay on his property, he started building a narrow (and we mean seriously narrow) gauge railway up the extremely steep terrain.
Word spread of a "train ride" on the peninsula, and soon people were stopping by and asking for rides. Eventually the owner started charging, and people started paying, and the business model shifted away from the original plan of ceramics.
Everything about this railway is extreme. The rails are very narrow, the land is almost vertical, and the bush is incredibly dense. Yet this former science teacher single-handedly designed and built a rail line up the face of the hillside. The land was too steep to permit even hairpin turns, so where the train needs to turn around the rails simply come to an end; the train drives to the end of the track, the driver gets out of the engine at one end and walks to the engine at the other end (yes, each train has two engines), flips a track switch, and drives the train back in the same direction from where it had just come. The track switch causes it to follow a different set of tracks which then continue traversing the steep terrain until the next so-called "reverse". There are several of these as you ride up the hillside.
Here we are at a reversal, with the driver leaving the forward (now rear) engine and heading toward the rear (now forward).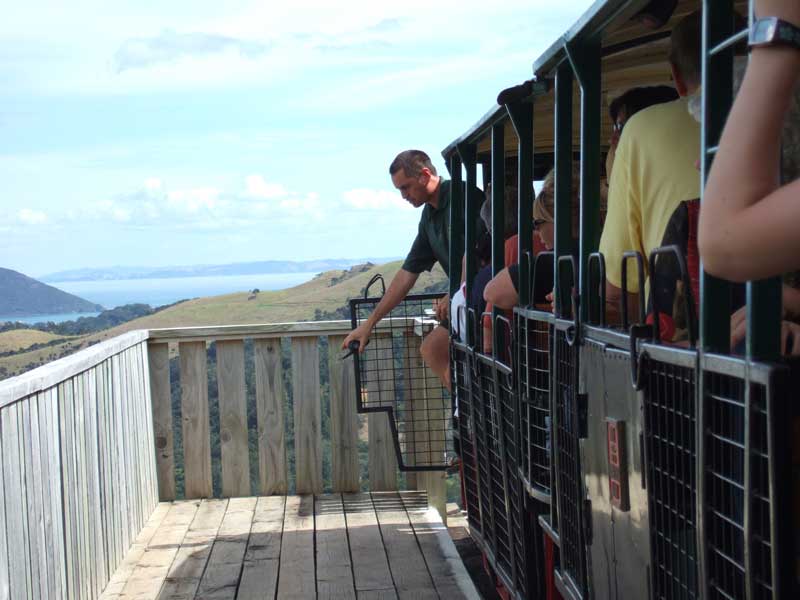 Each reversal represents the "end" of the rail line at one point in its history. As the visitor count increased, the owner would add another length of track and simply tack it onto the prior "end" by using a reversal. Finally, after 27 (!!!) years, a viewing tower was built at the current end of the track. The folks who now operate the train say that the rail line has definitely been finished at this point, and no more additions will occur.
The views from the train are breathtaking. Here is a view off the peninsula, showing the numerous islands which dot the coastline all around New Zealand.
Here are some wild animals we found on the train. This also gives you an idea of just how narrow the train cars really are.
Here is one of the tunnels along the way. They are just barely large enough to pass the train cars. When they say "keep your head and arms within the train" they are deadly serious!
Occasionally a retaining wall was required. The owner used whatever materials were at hand.
Here is a view from the lookout tower (they call it the "Eyefull Tower") back toward the tracks. The scale is misleading; those rails are only about a foot or so apart. When you sit on the train cars, you can sway your body back and forth and cause the whole train car to tilt left and right.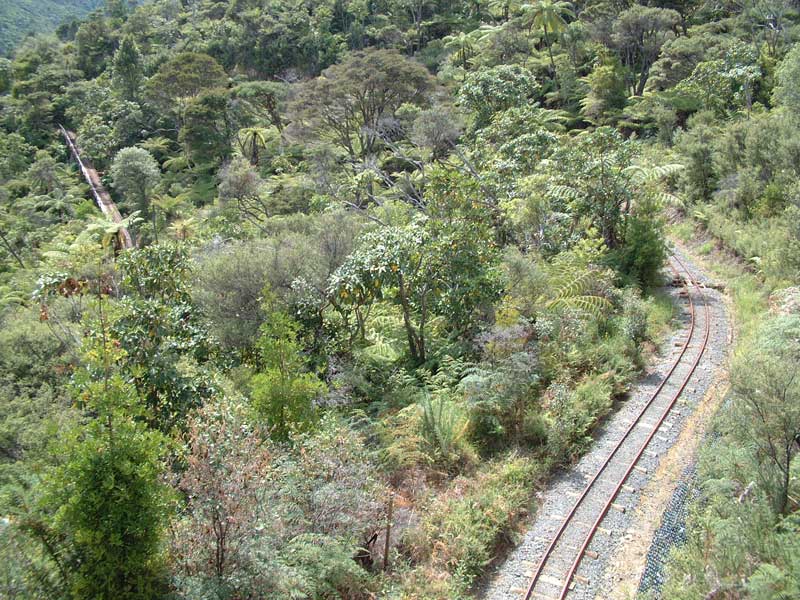 Here is a view from the tower down to the train, with passengers in the photo to give things some perspective. There are actually two trains on the track; they run them up and down the mountain in pairs. This makes for some interesting views when the trains pass each other on parallel tracks. There's even a double-decker bridge over which the trains must pass - but they don't permit more than one train on the bridge at the same time, presumably due to weight.
After finishing our railway visit, we drove back into Coromandel Town and found our B&B for the night. This was a very nice facility with a ground-floor bedroom for Paul and Bonnie and an upstairs bedroom for the Hartmans. The owner was quite concerned about Christopher, openly stating that she "does not normally accept children" due to concerns about morning noise affecting the other guests. We assured her that Christopher was very well behaved and then impressed upon him the importance of not proving us wrong.
That night, the skies were almost completely clear. After Christopher was snuggled down and asleep, Richard ventured outside to examine the stars. As expected, there was much less light pollution and the view was unbelievable.
There was Orion, upside down as before. But while in a normal sky Orion stands out, in this sky he was almost lost to the innumerable other stars. It was actually difficult to pick out constellations because the sky was so full of stars. The Milky Way stretched across the heavens, brighter and more obvious than ever before. And in the southern sky were three other objects Richard had long read about but never personally seen before: The Large and Small Magellanic Clouds, and the Coal Sack. Research on these objects will be left as an exercise for the reader. It was incredibly exciting to actually see them, right there in the sky, with one's own eyes.
We rose the next morning and kept Christopher quiet as promised. Breakfast was supposed to be at 8:30am sharp, but as that time approached we noticed a distinct lack of activity in the kitchen. Finally our hostess appeared, and she confessed she had slept in past 7:00am "which I never do". We suggested that she had subconsciously relied upon Christopher to wake her up, which elicited a chuckle from everyone.
We had a great breakfast which included fresh fruits that Christopher helped to pick from our hostess's own garden that morning. We met the other guests, whose diversity included a pair of microbiologists from Portugal on their way to Woods Hole Oceanographic Institute in Massachusetts. Everyone agreed that we absolutely had to drive back via the eastern coast of the peninsula, despite the less than favorable weather - its beauty was not to be missed.
Soon we were packed and ready to go. We bid our hostess goodbye, and she specifically complimented Christopher on how well behaved he had been and what a good garden helper he was. One quote looms large: "If all five year olds were as good as you, all the B&B's would want to take them." High praise from someone who almost didn't let us stay there with a child!
The eastern route didn't disappoint. Its magic became apparent as soon as we made our way from the prior day's western coast to the eastern coast. We stopped at a turnout to stretch our legs and found some wonderful rocks.
Mary spied the rock that, in the above photo, appears just beside Christopher's left shoulder and the next thing we knew she was sitting on top of it. Christopher took that as a challenge and within a couple of minutes had joined his Mom on the peak.
Meanwhile, Richard had noticed the somewhat taller and less accessible rock at the rightmost edge of that same photo. Getting to it required crossing some open water so he worked his way across the waves to begin the ascent.
The easiest route was on the seaside, which was made of a iron-rich rock that often crumbled beneath hands and feet. It was nearly vertical in a few places but eventually Richard made it to the top.
Afterwards, Richard climbed down again and worked his way out to the farthest point into the sea. There were some tide-pool-like puddles out there but he didn't find anything interesting. The waves found him, though, and managed to sneak up and douse him a few times.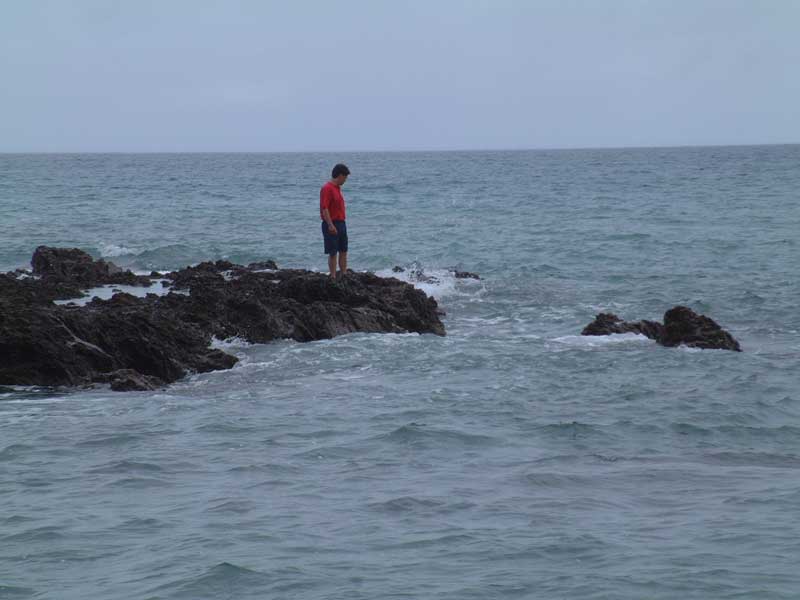 Naturally, once he spotted Daddy out on this more treacherous rock, Christopher wanted to come out and join the fun. Richard was quite concerned about Christopher crossing the open water areas because the tide was strong and the rocks were sharp. However, Christopher followed Richard's careful instructions (for once!) and made it successfully out to the rock.
We all piled back in the car to continue our southward progress. Eventually we came to an intersection where we would have to turn away from the main road to visit an area known as Hahei, which had been recommended by several people. We decided to take the time and took the detour - one of the best on-the-spot decisions we made on the whole trip.
Our first stop in the area was at a steep but sandy beach in Hahei itself. Offshore there were numerous islands poking up from the sea. Dense forests and fascinating rock formations beckoned, and Richard openly wished they had more time and access to kayaks so they could paddle out to those islands and explore.
Just then, the following scene appeared...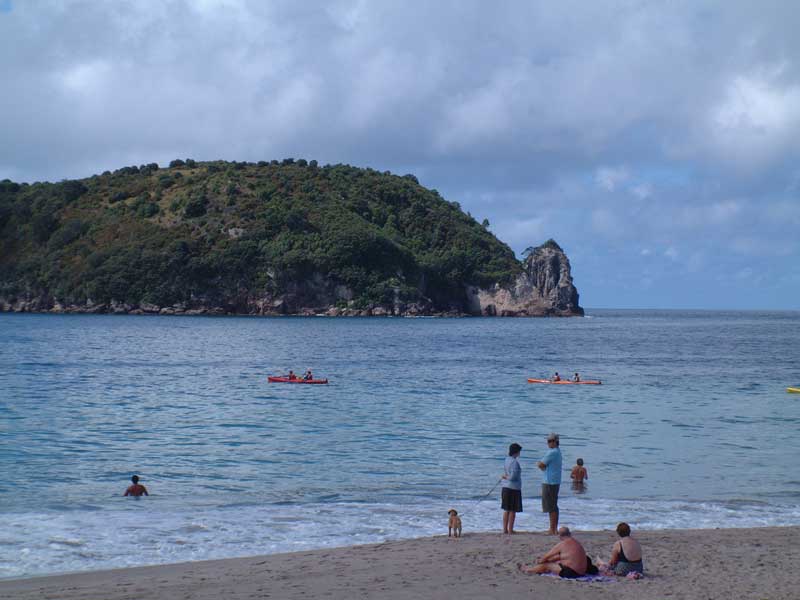 Richard wouldn't paddle tandem kayaks (aka "K2's"), instead favoring sit-on-tops with scuba support for an application like this. But just imagine the adventure those people are going to have, even for a single day. Look at the rocks at the rightmost end of that island; imagine beacking on that rock, then climbing up the face of those rocks and investigating those wind-hollowed caves tens of feet above the water.
Here's a wider angle view of the same area. You can see those same pillar-like rocks on the right end of the larger island. You could paddle to the big island, then to one of the smaller ones, then to another smaller one....
We left Hahei and drove back north along the coast for just a couple of kilometers until we reached "Cathedral Cove". The weather had started to mist a bit, but that didn't hide the unbelievable beauty of the area.
Here's a shot of Cathedral Cove itself:
See those caves just to the left of center in the photo? It's a 45 minute walk from where this picture was taken to the beach opposite those caves. The photo simply does not do justice to the color of the water in that cove.
Here's a closer view of the caves and the water near them:
It was a major effort on Richard's part to not scrap the rest of the trip and start down the path toward that cove. He could hear it calling to him, begging him to come explore.
Here's another view from that same spot, more directly to the east:
From where Richard was standing when this shot was taken, it was literally straight down about 200 feet to the ocean's surface. You can see the teal blue tint in the partially aeriated water below. You can see even more islands just screaming to be explored. Little rock outcroppings, larger islands that could be camped upon for one night or a week's worth.
And if you look carefully just to the right of center, you can see something else. Here's a closeup:
Yes, it's kayakers. Living out Richard's dream, padding their way toward those islands. Probably only for a day trip, of course, but still.
Here are a couple of wider angle views of the Cathedral Cove area: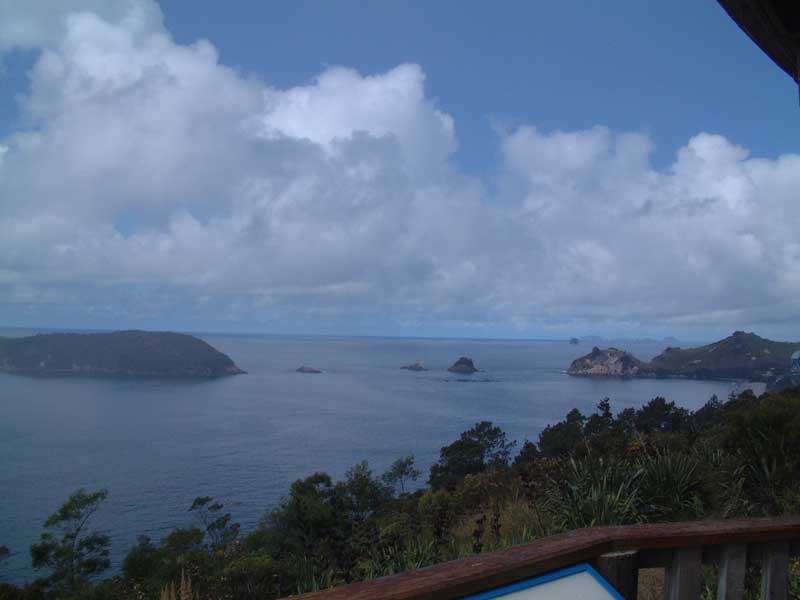 Rocks and islands sprinkled everywhere. All within reach of a kayak. All with underwater areas to scuba and above water rocks to climb. A sit-on-top with scuba support, a drybag of climbing gear and a few essentials, and there's a solid month of mind-blowing adventure just waiting here. In his head, Richard kept hearing the song "Bali Ha'i" from the movie "South Pacific" and could feel the message in the very marrow of his bones. He almost didn't leave. He almost couldn't leave.
Bali Ha'i may call you, any night, any day,
In your heart, you'll hear it call you: "Come away... Come away."
Bali Ha'i will whisper, in the wind of the sea:
"Here am I, your special island! Come to me, come to me!"
Christopher is a bit young for a trip like that, but at the rate he's going he'll be ready in a few years. His Daddy knows that the call of this place, and of these islands, will not fade. He will make sure Christopher is preparing to return.
Sapphire Princess - Internals
The middle of our trip was dominated by 12 days on the Sapphire Princess, an enormous cruise ship that operates in the Australia / New Zealand area for half the year and in Alaska the other half. We were to use the Sapphire Princess to take us across the Tasman Sea, the body of water that separates New Zealand from Australia. It's affectionately called "The Ditch" by Kiwis. The ship would stop in three cities in New Zealand, cruise through the New Zealand Fjordlands, then cross the Ditch and visit three Australian cities before dropping us off in Sydney.
For a variety of reasons the cruise wasn't the best part of the journey. However, there were some highlights and those are definitely worth sharing. So we'll skip the uninteresting bits and concentrate on the good stuff.
Richard's one and only goal while on the cruise ship was to visit its bridge and its engine control room. As soon as we were on board he went to the customer service desk and asked about arranging tours. The folks there informed him that galley (kitchen) tours could be arranged, but that bridge tours were almost unheard of and NOBODY got to visit the engine room. They suggested that Richard write a personal note to the Captain asking about a bridge tour and they promised to deliver it. Richard did so, including the engine control room in his request despite their objections.
Those of you who have been on a cruise ship know that there are "casual" nights and "formal" nights. Casual nights are the most frequent, when you can wear basically anything reasonable to dinner. Formal nights occur roughly once per week and involve women wearing formal dresses and men wearing tuxedos and the like.
Those of you who know Richard know that he is no fan of formalwear, particularly when eating. He just doesn't care to spend money for the opportunity to be uncomfortable while dining. He also couldn't accept the logic of the weight and space that would be consumed to pack a suit, dress shirt, tie, dress shoes, etc. for two nights out of 39. So while everyone else in our group packed appropriate outfits for the formal nights, Richard played the role of "party pooper" and ate by himself those evenings. (This didn't turn out too badly, by the way. On those nights the "casual" dining areas were serving things like Bananas Foster flambe', of which Richard had two helpings!)
On the first formal night, the four nattily dressed diners enjoyed a nice dinner and were just leaving the dining room when the Captain and his Chief Engineer showed up at the door. The Captain, probably trying to do a bit of positive PR for Princess, asked Christopher to give him a high five. The Captain presumably thought he had happened upon just another five year old on his ship, but he was soon to discover this was Christopher.
Immediately Christopher started asking questions, beginning with "If you're down here, who is steering the ship?" This got a chuckle from the two senior officers, but his next question left them speechless for a moment: "When you cast off those huge mooring lines, is it done manually or do you have some kind of lever that does it?" The witnesses to this event say the expressions on the faces of the Captain and Chief Engineer made it clear they didn't expect something like that from someone so young. They shifted into a higher gear and started answering Christopher's questions with a bit more technical detail. What had started as a quick high five PR move had become a somewhat more lengthy engineering discussion in the hallway outside the dining room.
It's important to remember here that Richard was not with the group. Knowing that, Christopher immediately took advantage of the situation and told the Captain, now essentially a captive audience, that his Daddy wanted a tour of the engine room and the bridge. (The Captain may have felt a little set-up at this point.) The Captain flustered a bit, then finally said that if his family would send him a note he would see if he could set something up.
Christopher replied that his Daddy had already sent a note to that effect. The Captain responded that he would like a note from Christopher himself. He asked if Christopher could write, and when Christopher said "Yes" the Captain emphasized that he wanted a note directly from Christopher. Naturally, Christopher agreed. The Captain then emphasized that our group was not to discuss this possibility with anyone else, since it was quite out of the ordinary.
When everyone was ready to go on their way, Christopher thanked the Italian Captain and his Italian Chief Engineer in their native tongue - a final bombshell that they didn't expect and that capped a chance hallway meeting with this precocious five year old.
Paul, Christopher's grandfather, later commented that in eight cruises all over the world he had never gotten personal attention from a Captain further than a casual "Hello". But here was Christopher, his grandson, in full audience with the Captain and his Chief Engineer, arranging tours for the family all on his own, while the other members of his family stood by.
Christopher was excited to tell his Daddy about his adventures that evening, and Richard was very proud of how his son had handled himself in such a situation. Christopher quickly wrote that note to the Captain in his own hand and had it delivered. Then the waiting started.
A few mornings later, Richard was alone in the stateroom when the phone rang. It was the Captain himself, calling to say he would meet our group at 10am to escort us to the engine control room. Richard quickly rounded everyone up and we met at the appointed place at 10am.
Sure enough, a few minutes before 10am the Captain appeared. He took us to an elevator and we descended to deck 4. There we met the Chief Engineer and the two of them took us to the engine control room (ECR). Access to this space is controlled by combination lock and we later learned that the vast majority of the rest of the crew had never even seen, much less been inside, the ECR.
The ECR is a very clean space with lots of LCD monitors. The computers run Windows XP and specialized software from Siemens, the huge privately owned German Engineering firm. We were permitted to take photos, so here is one showing the Chief Engineer explaining things to Christopher and Richard:
The screen is a little fuzzy in this shot but you can see the representations of the ship's four diesel engines on its right side. On its left side is the representation of the ship's gas turbine engine. The ship is diesel-electric, much like a modern train engine, where the engines turn generators and the resulting elecric power is routed to giant electric motors that then turn the propellers.
The software monitors 14,000 sensors around the ship including many on the engines themselves. On the screen in the above photo were numeric displays of top, middle, and bottom cylinder temperatures, oil pressures in various places, engine load, and so on. Everything is monitored extremely closely.
In normal operation, the crew decides how much power they want going to the propellers. The software fires up whatever number of engines is required to supply the necessary power. If all four diesels are at 100% and even more speed is desired, the software will then power up the gas turbine (think jet aircraft engine, but optimized for shaft horsepower to drive a generator rather than air thrust out the back to push an aircraft).
Richard wondered about why they didn't just put in more diesel engines. The way things were configured, they had a completely separate engine type that required a completely separate fuel supply - why all the additional complexity? The answer is Alaska: the emission requirements to sail in their waters are quite extreme and only the gas turbine can achieve them. So when Sapphire Princess is in Alaska and cruising close to shore, it shuts down the diesels and runs exclusively on the gas turbine. Obviously this limits top speed but when within inshore waters that's not a problem.
At one point, Christopher quipped something humorous that got the crowd laughing:
In this shot you can see the Engineer on duty, clothed in a white jumpsuit. There are also live video feeds from various places inside and outside the ship.
When we were ready to leave the ECR, the Engineer on duty offered to take a photo of everyone. Note that the Captain is still with us. He could have left us in the capable hands of his Chief Engineer, but he chose to stay.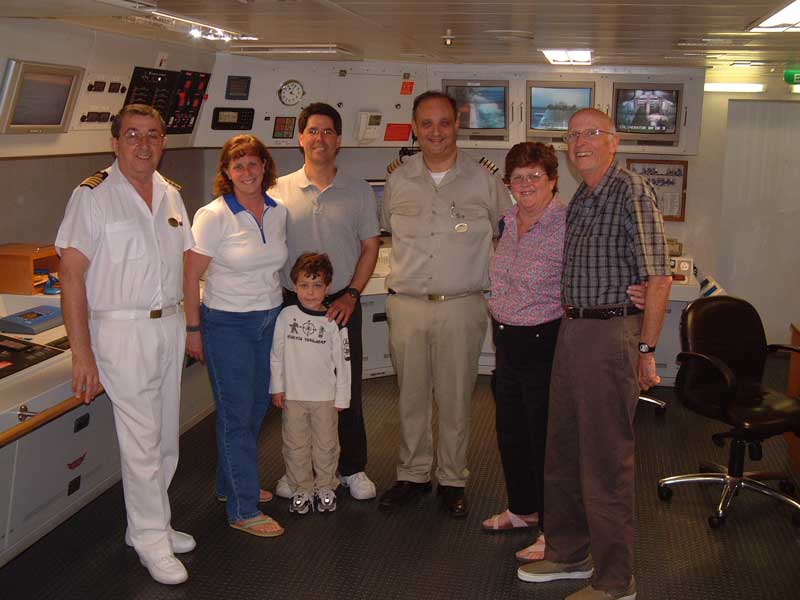 We presumed that once we left the ECR the tour would be over. Instead, the Captain took us on a personal tour of the entire 4th deck. This included the hatches and cranes used to load and unload supplies when docked, several large food preparation areas, and the largest size and quantity of refrigerators and freezers we'd ever seen. There was also an Engineering area with a complete metalshop where repairs could be fabricated on board when necessary.
All told, the Captain spent more than an hour with us. We were astonished that the most senior officer on the ship, a man with tremendous responsibilities and demands for his time, would be so generous instead of just assigning one of his staff or crew to handle us. But it became evident that the Captain and Christopher had formed a special bond. The very last thing that the Captain asked as we parted ways was for another high five:
We felt very honored to have had a tour of the engine control room. But we still hoped for a tour of the bridge, and the Captain didn't disappoint. On the second to last day of the cruise, two notes appeared in our mailbox. One was to Richard and Mary, and the other was exclusively to Christopher, inviting us to a tour of the bridge.
This tour was not conducted by the Captain, presumably because it wasn't as out of the ordinary as the ECR tour. We were taken to the bridge by a member of the security staff and then the bridge staff, which included the Canadian Second Officer and another senior officer from Italy, answered questions.
In this photo you can see the primary bridge area. Richard and Christopher are quizzing the Second Officer on the finer details. Just under Richard's outstretched hand you can see the ship's wheel - rather small for a vessel nearly 1000 feet long and weighing 116K tons!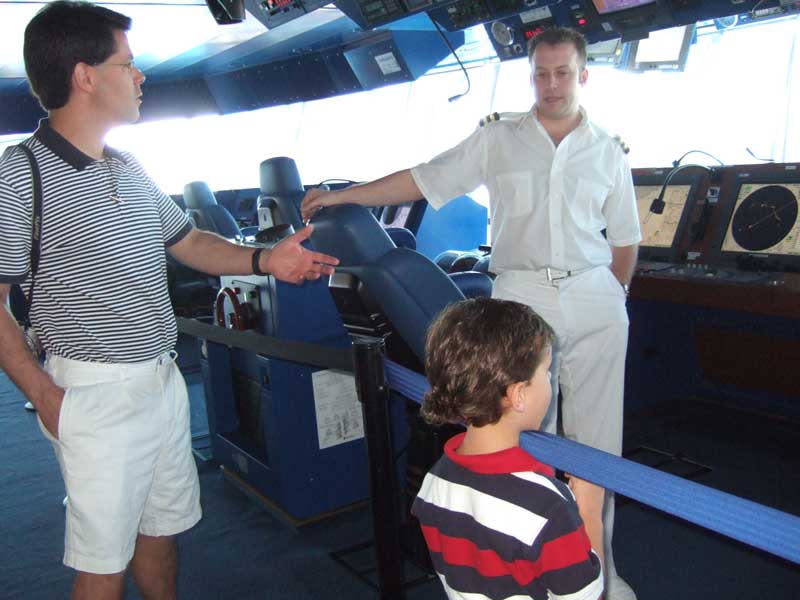 In reality, though, they don't use that wheel very often. The ship is steered by setting a desired course and a desired arrival time, and then the software manages the rudder and engine systems. They can manually override, of course, but under normal circumstances the fate of 4000+ people on board is dependent upon application software running on Windows XP. Yikes!
(Humorous side note: On one of the bridge screens was taped the username and password for logging into the control software. It was like a lampoon of Rule #1 in every computer security manual in existence. However, one doesn't physically get onto the bridge too easily so practically speaking it's not a huge problem - just funny.)
Here's a closer shot of the ship's wheel. You can see the numerous navigational systems in front of it. It has all of the things you'd expect, such as GPS overlaid onto physical maps, plus complete radar and sounding systems.
We passed a big container ship while touring the bridge. This gave us an opportunity to see one of the navigation systems in action. The software noticed the container ship, plotted its course, and estimated the time and distance of its nearest approach - all with no manual intervention.
We also saw a private jet aircraft pass overhead. They definitely don't maintain high altitudes while over open ocean; this one was perhaps 1500 feet off the water.
The bridge is the widest, but not the highest, point on the ship. It extends out beyond the sides of the hull so that the bridge crew can look down and aft and see everything that is going on. This is particularly important while docking, and each extreme side of the bridge has a mini-bridge control console that permits complete control of docking while enjoying a full view of the dock and ship. Here's a shot of the starboard (right) side bridge:
The Sapphire Princess is not dependent upon tugboats for docking unless winds are strong. It has six side-thrusting propellers, three fore and three aft, that reside in permanent tubes through the bottom of the hull. The propellers always turn in the same direction but the blades can be feathered in either direction so they can thrust to either port or starboard. By running the three fore thrusters one way, and the three aft thrusters the other way, the ship can literally turn around within its own length. We experienced that while cruising through the New Zealand Fjordlands and it was very impressive.
If you look carefully in the above photo, just to the left of Mary's head are the controls for the two main propellers. Note that they move forward and backward. Just to the right of Christopher's head are the controls for the side thrusters. Note that they move left and right. This mini-bridge can control everything that is required for docking.
Here is the aft view from the starboard mini-bridge: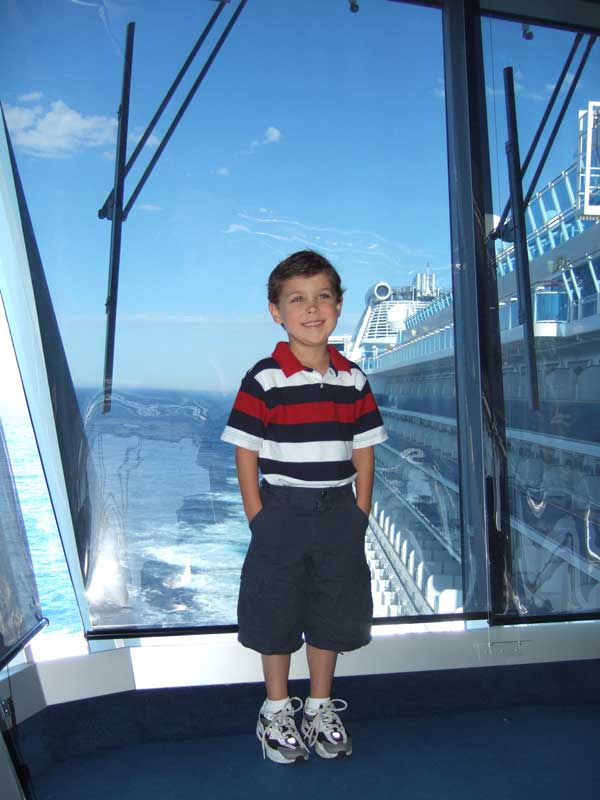 Those are some pretty serious windshield wipers, eh? And a rather captivating smile, if we do say so ourselves.
As usual, Christopher managed to talk his way into the bridge chair. He also managed to talk the Second Officer out of a hat!
Here's a view from the other side. Christopher is ready to set course and engage.
There was no denying Mary a turn at the helm, either. She certainly looks the part in her "dress whites" and hat!
Fjordlands, South Island, New Zealand
The last interaction we had with New Zealand was aboard the Sapphire Princess. We can't say "contact" because the ship sailed near the land but we never actually touched it.
The Fjordlands - technically "Fjordlands National Park" - are a "United Nations World Heritage Site". There are quite a few of these in New Zealand and Australia, including the Great Barrier Reef that we will visit later. We're not sure precisely what advantages this United Nations recognition carries, but the government sure works it for all it's worth in the publicity department.
We'll skip the whole environmental-political subject area and focusing on what's really important, the Fjordlands themselves. This is another remarkable place in a land that seems to have an endless supply of such things. The Fjordlands lie on the southern tip of what is commonly called the "South Island". Interestingly, the South Island is not the southernmost island of New Zealand; there is another, much smaller island named Stewart Island that lies to the south of the South Island. (We didn't visit Stewart Island but heard it is quite a quaint little place. Example: You are encouraged to bring all the cash you believe you'll need for your visit to Stewart Island because there are no banks there at all.) To keep things straightforward, we'll use the common nomenclature for things and refer to the three islands that make up the majority of New Zealand as (from north to south) the North Island, the South Island, and Stewart Island.
As noted above, the Fjordlands lie on the southern tip of the South Island. They comprise a series of what might be called peninsulas that, in some cases, actually have a clear passage in one place and out another. In other words, the fjordlands contains many of what might normally be called "islands" but because they're all grouped together, so close to the mainland, and have narrow water passages between them (the fjords themselves), they get a special designation.
The day we visited Fjordlands was very cloudy and overcast, with fog shrouding the higher peaks around us. And high they are... some reach over 7000 feet, rocketing straight up out of the sea. This is rugged territory, yet it is criss-crossed by numerous hiking trails and warming huts. Interestingly, the water in the Fjordlands is completely safe to drink; there is no Giardia nor other cysts or parasites in the flowing or standing fresh water. Richard did not know it was safe to drink untreated water anywhere on the planet anymore. Just another of New Zealand's surprises.
Early in the day, things looked mostly like this:
But as the day progressed, we were visited by spots of sunshine. They were incredibly impressive given the scenery in which we witnessed them. As just one example:
And another, in this case a "sun spot" that appeared at the base of one cliff face and slowly worked its way up the mountain as we watched.
But the Fjordlands had more to show us. Soon we started seeing the waterfalls. We spotted this one in the distance:
...and it just got more impressive as we approached.
You can probably guess what Richard was thinking about this time. Paddling a kayak up to the base of that waterfall... toying with getting closer, where the weight would threaten to overturn such a tiny craft... staying just far enough away to feel its power while staying upright... finally yielding to temptation and sticking the bow into the falls just to see what it feels like to cartwheel by waterfall. Hey, there's a reason we learn to eskimo roll a kayak, right?
Waterfalls just kept coming. We didn't photograph a hundredth of what we saw, and only a small fraction of what we did photograph is included here. Waterfalls just kept appearing around every corner.
The mountains themselves became increasingly majestic as well. Sheer rock faces, with various forms of vegetation clinging bravely as they eke out an existence in the toughest of locations. Just like the North Island - so many things that beg to be explored up close, not from the impersonal distance of a cruise ship.
Richard managed to capture this mountain face from top to bottom: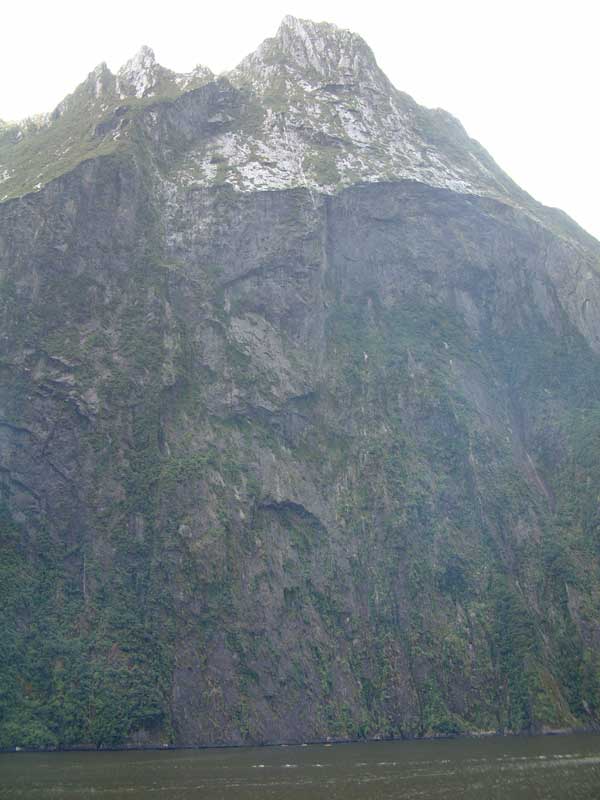 Then something caught Richard's eye. The human eye and brain become trained to recognize things that interest their owner. If you're considering the purchase of a certain kind of vehicle, you'll start noticing them more as you drive around. If you're in the market for a house, suddenly all the "For Sale" signs jump into your consciousness. You become sensitized to things that are important to you.
Richard squinted into the distance, and - once again! - someone else was living Richard's dream. Fortunately he was using the digital camera with the bigger lens, so he zoomed in as tight as possible at the base of that mountain face in the above photo and took another shot. Look again at the above shot, right at the waterline, and see if you can discern what caught his attention. Then look at this next photo.
For the second time on this trip - first on the North Island, and now on the South - someone else was paddling kayaks. Someone else was up close and personal with the landscape. Someone else was there. AAAAAAAAARRRRRRRRGGGGGGGHHHHH!
The wonders and unknowns kept coming. The ship finally reached its furthest extent into the Fjordlands and then executed that "turn on a dime" move mentioned earlier. With all three fore thrusters pushing one way, and all three aft thrusters pushing the other, the 1000 foot ship spun around neatly in place and prepared to head back out to the open ocean.
While this turnaround was happening, we looked farther up the fjord in which we were sailing and noticed something odd: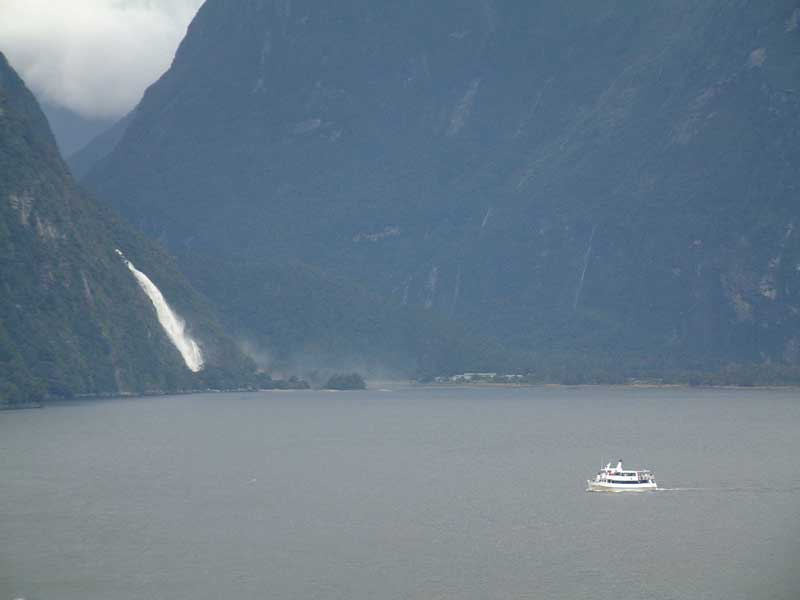 No, not the impressive waterfall on the left (though it was easily the largest we'd seen yet). Not the other little tourist ship, either. Look off into the distance above and to the left of that little ship. See them? There are buildings out there. Buildings, right in the middle of a New Zealand National Park, right in the middle of a UN World Heritage Site, in the most inaccessible place we'd yet seen. If you looked up "water access only" in the real estate dictionary, it would have a picture of this place. And not just some leftover warming hut from long ago - there are multiple buildings there, totalling a lot of square footage. What are they? Why are they there? How do you access them? We never got answers to any of these questions.
Finally, the Sapphire Princess worked its way out of the Fjordlands and into the Tasman Sea on its way to its appointment with the city of Hobart on the island of Tasmania, two days in the future. People stopped crowding its decks, the wonderous sights now a part of the past. Folks moved toward the dining rooms, the bars, the onboard casinos. The collective attention of the ship and its passengers turned inward.
But late that afternoon, Richard ventured alone to the stern of the ship. New Zealand lay behind us, not to be seen again on this trip. There are many questions and mysteries there, waiting to be investigated. Kayaks are part of the answer. Scuba is part of the answer. Most importantly, time is part of the answer. He bid a sad farewell to the land that has beckoned him for so long, then turned to face the next frontier: Australia and its Great Barrier Reef.
Next: Port Douglas and the Great Barrier Reef.
More to come... check back often!